Miscellaneous Donations to Slovakia

During tours to Slovakia special projects were initiated. Clothing and money were given annually to The Dietky Dom (Children's Home) in Ružomberok. A $2000 donation was given to the Society of the Divine Word, Nitra, Slovakia for purchase of state-of-the-art media equipment for thier use in evangelization. 300 baseballs were given to the Košice Knights Baseball team. Fifty boxes of clothing were either shipped or hand-carried to Spišská Nová Ves, Levoča and Nitra. The boxes contained sporting equipment and clothing purchased at the "end of summer sales" at local stores. In 2011 Jim and Kay Bench hand-carried $5650 to the mayor of SNV for assistance in purchasing a new pump for the fire truck at the volunteer fire department. In 2012, an additional $3000 was donated toward the purchase of the Information Systems of Civil Protection - a warning siren system at the SNV winter stadium (ice rink) in the SNV centrum.

Slovak Folk Groups

Youngstown Sister Cities, in conjunction with Pittsburgh and Cleveland Sister Cities groups, has sponsored four folk groups to the United States. These include: Sluk Dance Group, Funny Fellows, Raslavican Folk Ensemble, Ivasta Father/Son Duo from Bratislava and the Cečinka Folk Group. All concerts were "donation only" funded and were held at local high school theater settings. YSC provided room and meals with area slovak families while the performers were in Youngstown.

Youngstown Coat of Arms in Spišská Nová Ves
and Street Signs at Youngstown Entrances
At the entrance of the City Hall in Spišská Nová Ves, The Coat of Arms for the towns in the Sister Cities family are displayed prominently. The large Seal of the City of Youngstown is visible at the top left of the group and represents our partnership with SNV.
At four prominent entrances to Youngstown, street signs have been erected on major roads stating "Welcome to Youngstown - Sister City of Spišská Nová Ves". The signs also feature flags of Slovakia, a Seal of the City of Youngstown and the Coat of Arms of SNV.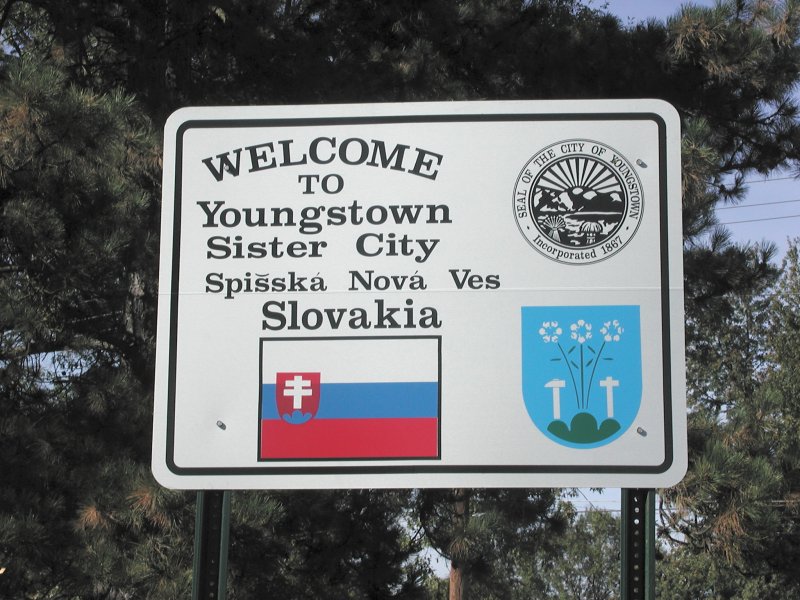 New Sister City Signs Grace the Entrances to Youngstown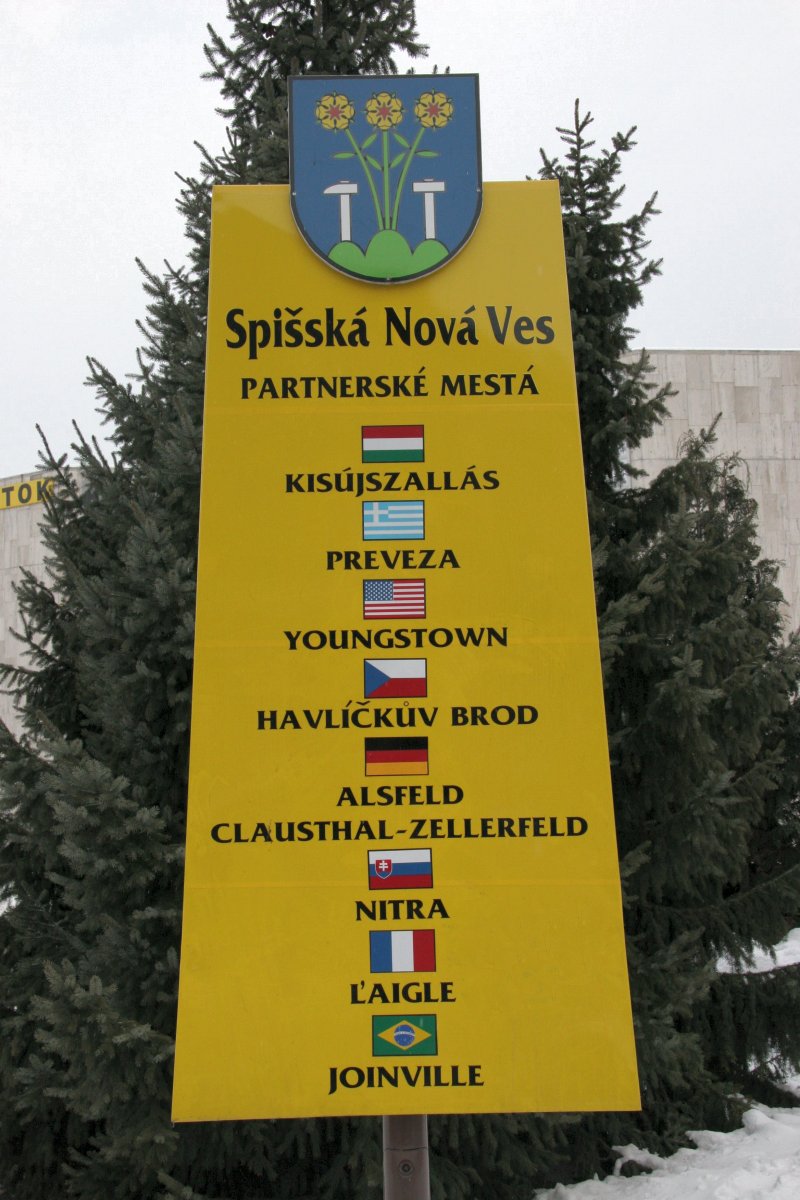 Sign in SNV Centrum showing all sister cities affiliations.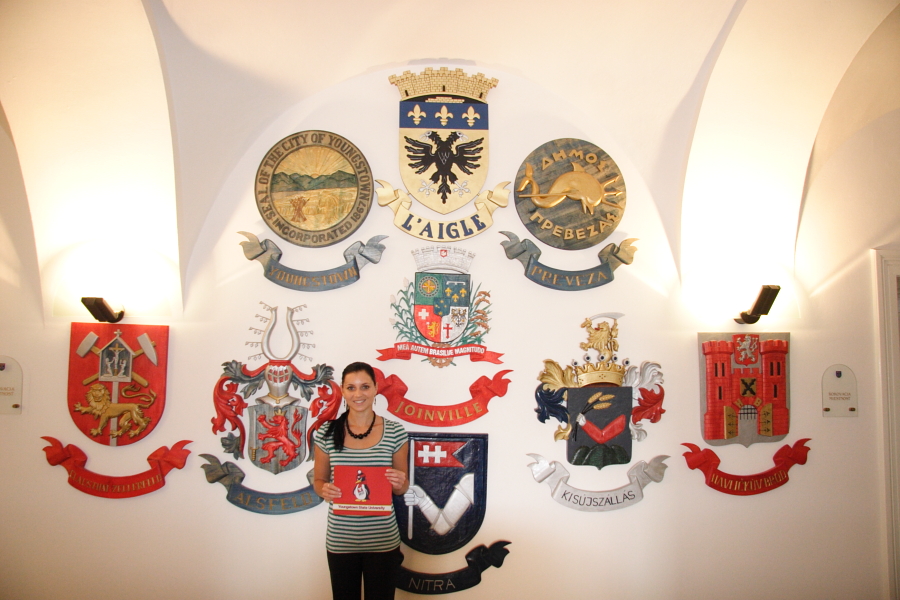 A good friend to Sister Cities - Lucia Kormošová standing in
SNV city hall entrance with Youngstown crest at upper left.

Board Director Brian Petruska Teaches in Bratislava

Board Director Board Director Brian Petruska spent one year in 2008 teaching at the QSI International School in Bratislava, Slovakia. He and his wife Kara traveled to Spišská Nová Ves to represent Youngstown Sister Cities in the celebration of the 740th anniversary of the founding of SNV.
Senator George Voinovich Sponsors
Visa Waiver Roundtable

Senator George Voinovich (R-Ohio) hosted a luncheon and roundtable discussion of the Visa Waiver Program, which would extend the ninety-day visa program to all nations that abide by strict guidelines who assist the United States in the fight against terrorism.


The event was held at Saints Cyril and Methodius Slovak Church in Warren, Ohio. Invited guests included two or three representatives of various nationalities that have expressed an interest in extending visits by relatives from European countries. Bernie Demechko, Secretary, and Steve Bacon, President Emeritus, Youngstown Sister Cities, represented regional Slovak Americans. Steve had visited Ambassador Rastislav in Washington the week before and the Embassy emailed the Youngstown Sister Cities a list showing Slovakia's support of NATO and the United States in world affairs.


The email stated: 100 troops from Slovakia (Engineering Battalion) helped with mine removal and had just returned home to Slovakia from Iraq….ten Slovak military instructors are still in Iraq training their troops…60 Slovak troops are in Afghanistan (Engineering) at Kabul Airport. When they were recently asked to move to the more dangerous site of Kandahar, they readily agreed to do so…4 Slovak soldiers have been killed in Iraq…40 Slovak troops were killed in 2006 when the airplane that was bringing them home to Slovakia from Kosovo crashed near Košice. The email further elaborated that Slovakia is a non-permanent member of the United Nations and consistently votes with the United States. One military airport in Slovakia is used for training purposes but there are no NATO airbases in Slovakia.

The Visa Waiver Program is an amendment to the Homeland Security Bill and would include stricter measures such as electronic passports with biometric information chips for identification, stricter passenger screening, and the exchange of lists of suspected terrorists between countries.

UPDATE (August 2007) A letter was received from Senator George Voinovich informing Youngstown Sister Cities that on July 26 the full Senate voted for passage of Senate Bill 4 which included the Visa Waiver Legislation. This will permit citizens of 13 deserving countries to visit the United States without severe restrictions. Slovakia is included in this group. A thank you email has been sent to the Senator from the YSC secretary for his intensive and extensive work on this bill.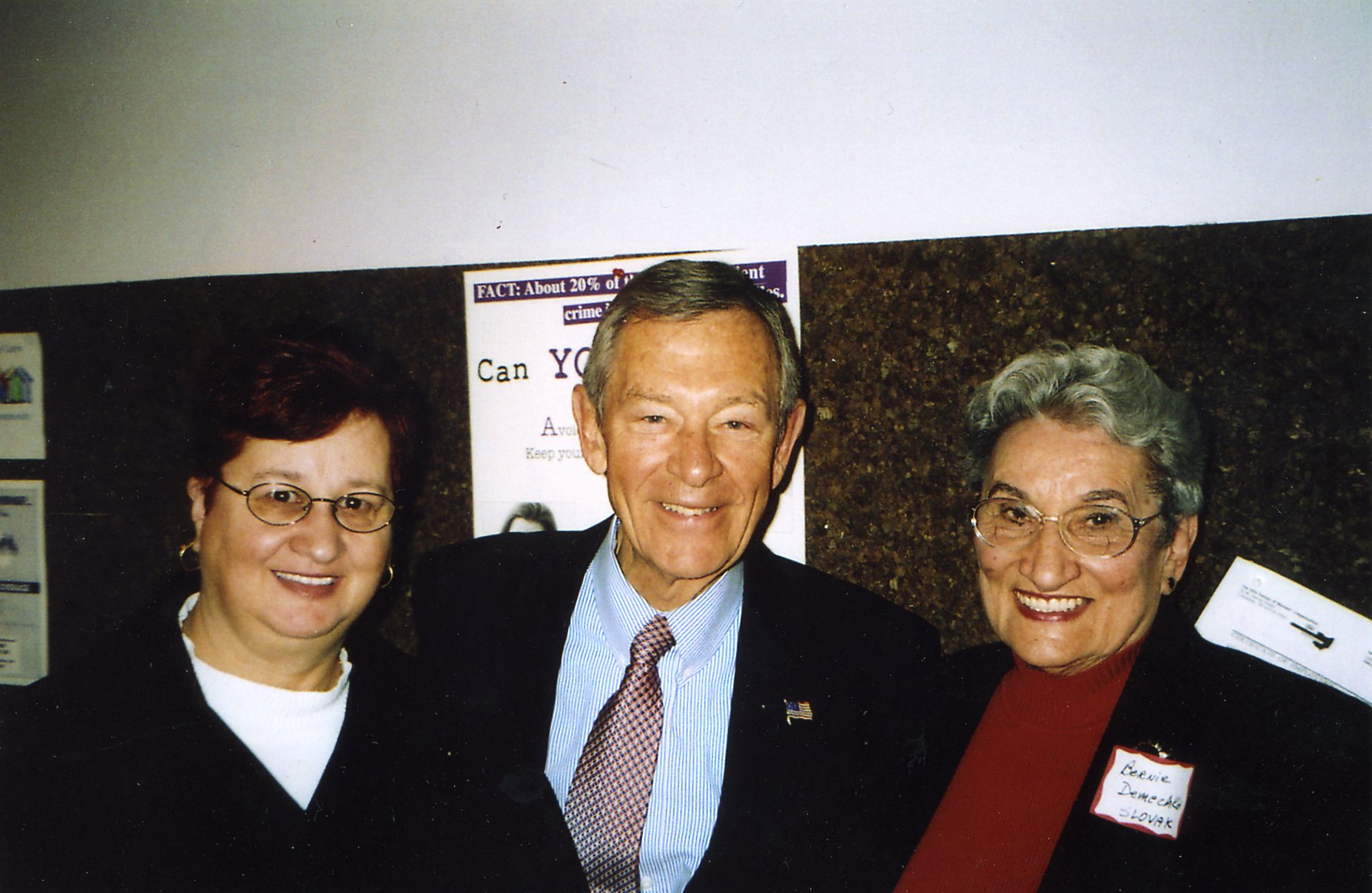 Gigi Bacon and Bernie Demechko with Senator George Voinovich
Medical Equipment to Slovakia
In 1992, Governor George Voinovich of Ohio issued a press release stating medical equpiment from three closing veterans' hospitals would be made available to the public. The Youngstown - Spišská Nová Ves Sister Cities Program traveled to Rickenbacker Air Force Base and tagged items to be donated to Slovakia. Thirteen containers of items (weighing 13 tons and valued at $11 million dollars) were sent that year to the Spiš region. The cost of transportation for the initial shipment, $13,000 , was assisted by the Cleveland - Bratislava Sisiter Cities Program and the George Soros Foundation and was transported by our US Air Force through the Denton Program (U.S. Government) with assistance of Rotary District 6650.

Since 1992, $15,000,000 of medical equipment has been sent through our program including two catscan machines, two magnetic resonance imaging (MRI) machines, two mammogram machines, a Picker Dynamo II camera for cardiac surgery, three portable x-ray machines, two EKG monitors, operating tables and beds. The Youngstown - Spišská Nová Ves Sister Cities Program pays for all electrical conversions for the medical equipment, as well as the crating of equipment and transportation to destinations in Slovakia. The U.S. Air Force base in Vienna, Ohio was responsible for transporting CAT Scanners, MRI and various other medical equipment in the late 1990's with Rotary clubs in Austria and Slovakia providing assistance.

English Teachers to Slovakia
From 1991 to 1998, Youngstown - Spišská Nová Ves Sister Cities sent 42 teachers to Slovakia to teach English at Spiš schools and seminaries for a six-month period. Sister Cities recruited the teachers, and paid for their airfare and medical expenses. The city of Spišská Nová Ves provided a free apartment and monthly stipend for each teacher. In 1998 the Peace Corps and local teachers met the demand for English classes so this program was discontinued. Teachers from across America and Canada volunteered for this effort.
Computer Equipment to Slovakia
In the early 1990s, The Youngstown - Spišská Nová Ves Sister Cities Program shipped twenty personal computers, five printers, and two microscopes to schools in Levoca, Slovakia. In 2000, computers were shipped to Doctor Marian Kopecny, Bratislava Hospital, to be used for inventory, scheduling, and patient information. In 2003, thirty computers and printers were donated by the school board in the city of Oregon, Ohio and shipped to Zilina in Central Slovakia.
Visits by Slovak Mayors and Businessmen
In 1994, the Youngstown - Spišská Nová Ves Sister Cities Program sponsored a seminar at Youngstown State Univeristy for mayors from 25 cities from Slovakia. A luncheon was held with the mayors which was attended by Youngstown area businessmen, politicians, state officials, and university administration. Tours of the Youngstown State School of Engineering were arranged and communication was facilitated between the Slovak visitors and the Youngstown research community.

A similar visit by 20 Slovak businessmen was held, including tours of Pittsburgh and surrounding cities. In Youngstown, they were given tours of the local General Motors assembly plant and the Schwebel Baking Company. Board member Rick Salata, of Mill Creek Homes, arranged for the complete assembly of a home to be accomplished in one week, so the mayors can observe modern construction practices.
Extended Visit by Karol Mitrik and Jan Hurny
In 2000, Sister Cities hosted the mayor of Spišská Nová Ves, Karol Mitrik, and his commissioner, Jan Hurny. A meeting was held with George McKelvey, Mayor of Youngstown, and keys to the city were exchanged. Special guided tours of infrastructure, such as sewage treatment and water distribution, were conducted. They also attended a Slovak Mass at St. Matthias Church in Youngstown and visited the International Exhibit at the Mahoning County Canfield Fair, the second largest county fair in the state of Ohio.
Establishment of Rotary Club in Spišská Nová Ves
In order to facilitate a high school student exchange program though Rotary International, a Rotary Club was organized in Spišská Nová Ves. There are now over two dozen Rotary Clubs in Slovakia, and any student wishing to be a part of the student exchange program must submit their applications to an established Rotary Club. To date, in cooperation with Rotary District 6650, there have been 17 students involved in the program, two-thirds being Slovak students studying in the United States, and the other third being American students studying in Slovakia. Sister Cities assists in paying for the airfare and health care premiums of the students. In addition, Sister Cities also pays for American students in Rotary District 6650 to attend an intensive Slovak Language class held at the University of Pittsburgh (Pitt) during the summer prior to departure.
Hosting Students from Slovakia
Annually, Sister Cities treats the visiting students and their host families to the Villija Dinner (Slovak Christmas Eve dinner/celebration) sponsored by the American Slovak Cultural Association. A monetary gift is presented to every student who attends and each student addresses the group, mentioning their goals for the future.
Tours to Slovakia
Tours have been planned with the Youngstown - Spišská Nová Ves Sister Cities Program every year since 1992. Highlights of the tour include visiting various sites throughout Slovakia and meeting the Mayor of Spišská Nová Ves at City Hall. Every meeting with the Mayor includes brunch, chamber music, signing of the guestbook, and a presentation of individual gifts for each member of the tour. The crest of the City of Youngstown, hand-carved in wood hangs on the wall of the entry to the City Hall in Spišská Nová Ves. To date, over 300 tourists have visited Slovakia through Sister Cities tours.
Work with Slovak Embassy in Washington, D.C.
In 2003, Slovak Ambassador Martin Butora welcomed representatives from Sister Cities as they delivered $3000 in donations for flood relief from recent flood damage problems in Slovakia. Ambassador Butora met with the groups and gave them a tour of the new embassy.
In addition to the accomplishments listed above
the Youngstown - Spišská Nová Ves Sister Cities Program
continually raises funds for future projects
and brings Slovak entertainment from around the world
to people in Youngstown and the Mahoning Valley.
revised 28-Aug-2012